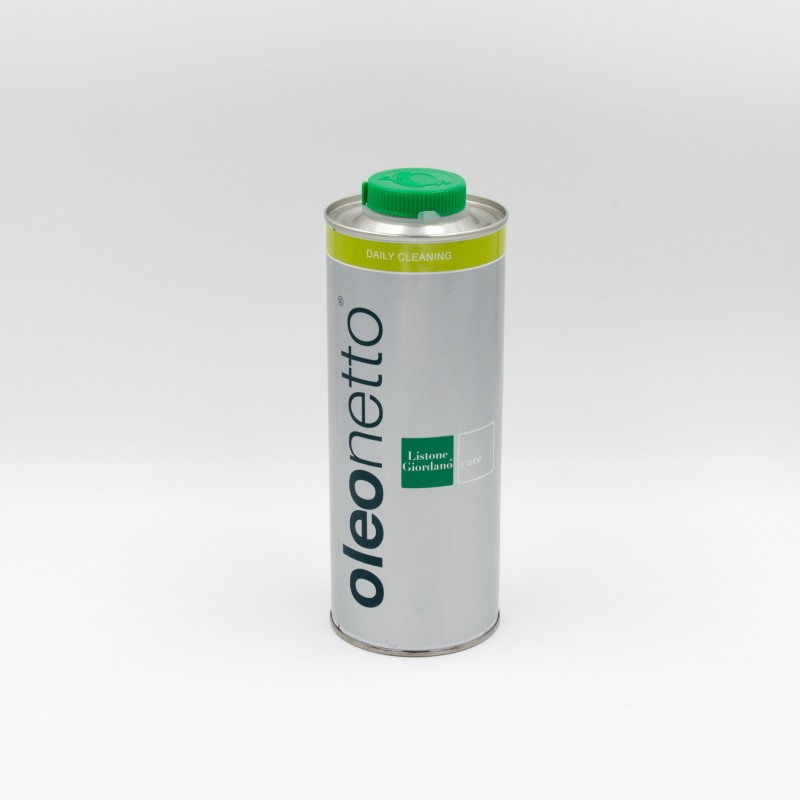  
Oleonetto
Delicate detergent for cleaning and nourishment of hardwood floors with the Natif (oleo). For frequent use.
Oleonetto Listone Giordano is a delicate detergent, to be diluted in water, effectively cleans the floor while providing intense nourishment for the Natif (oleo).
Can be used every time the floor needs to be washed. No rinsing necessary.
Directions for use
Remove the dust found on the floor's surface by sweeping with a broom or, better yet, clean with a vacuum cleaner equipped with a brush suitable for oiled hardwood floors.
This operation must be performed as frequently as possible since the presence of solid dirt on the floor's surface (dust, sand, etc.) speeds up the abrasion effect of the varnish, thereby causing the floor's surface to wear more quickly.
Pourone cap Oleonetto® Listone Giordano® for every litre of water contained in a pail. Immerse a soft cotton rag in the solution, wring well to remove excess liquid and pass it over the floor's surface. No need to rinse.
Never wash the floor with water only : The minerals contained in water may leave behind a residue that could reduce the floor's shine.


We do not recommend the use of detergents other than Oleonetto®.
When cleaning, avoid contact of the rag with surfaces finished differently from the hardwood floor (e.g. baseboards or painted furniture) because the product, by drying, could leave streaks or stains on such surfaces.
In case of contact, quickly dry the affected areas; any stains can be removed with a synthetic diluent, by making sure beforehand that it is compatible with the surface to be cleaned.
If you wish to enhance the surface's uniform appearance once this operation is complete, pass a domestic buffer fitted with a felt pad, or a semi-professional single-brush buffer machine with a soft pad (in cotton, microfiber, etc) or a cotton cloth over the floor.
In any case, be sure that the floor is completely dry before performing any other treatments.
Warnings
While this product is not classified as dangerous or flammable, keep out of the reach of children. The information contained on this sheet are based on the company's research and experience. However it is intended for general purposes only since it is impossible to predict every environmental and installation variable.
Data sheet
Destinazione d'uso

Cleaning

Finiture

NATIF
Customers who bought this product also bought: