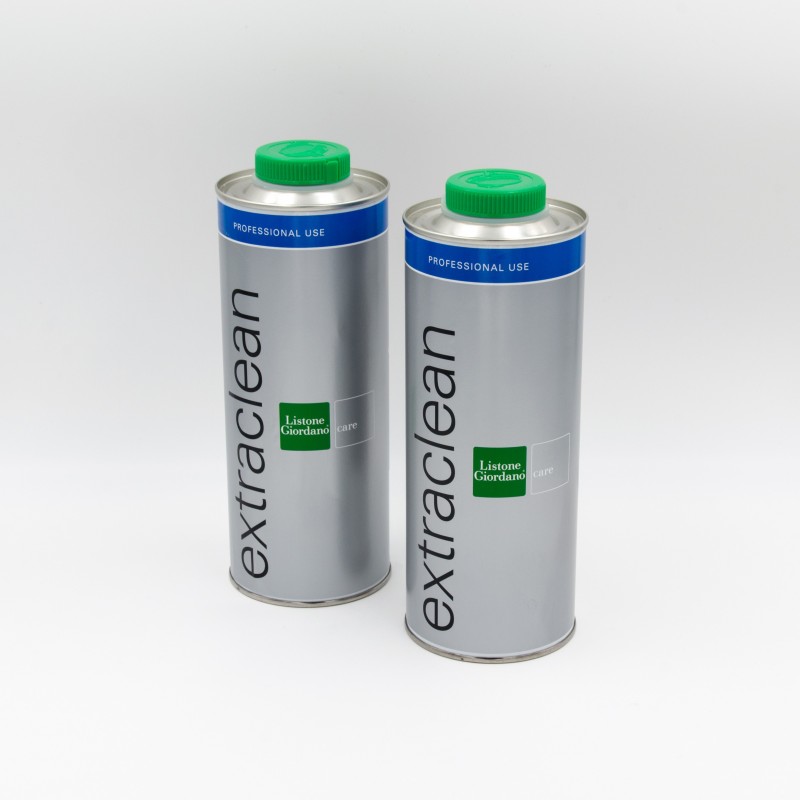  
Extraclean x2
Energetic detergent for parquet cleaning with Xplus2, Naturplus2, Mattplus and Natif finishes.
Product for the deep cleaning of the varnished and oiled hardwood flooring Listone Giordano® dirt or marked from the works after the installation.
Directions for use
Shake well. Water down the Extraclean Listone Giordano® at the 50% or 66%
(2 parts of Extraclean and 1 of water).
Poor onto the floor and wipe by a cotton cloth in typical action of deep cleaning of a surface in order to remove the dirt by means of chemical and mechanical action.
This operation can be done also by a single-brush buffer machine fitted with a white pad and a soft cotton cloth.
After the application of Extraclean Listone Giordano®, you will have a liquid contaminated with the dirt that you will have to remove very carefully avoiding that
it remains on the floor (dry this liquid by means of soft cotton cloths or extractor liquids fan).
Leave the floor dry not using any product nor buffing.
In case of need repeat the cleaning operations two times consecutives
For natural oil finished hardwood floors, after the application of Extraclean Listone Giordano®, particularly if applied all over the parquet surface, it is recommended a periodical care treatment with Revivo® Listone Giordano in the case of the Oleonature finish or with Oleovivo® Listone Giordano in the case of the Natif finish
After its application the hardwood flooring will be well cleaned and it will be possible to identify some area still marked or soiled.
A 1 litre bottle of Extraclean diluted with water is generally sufficient for treating a surface area of approximately 40–50 m².
Warnings
While this product is not classified as dangerous or flammable, keep out of the reach of children. The informations contained on this sheet are based on the company's research and experience.
Data sheet
Destinazione d'uso

Professional use

Finiture

MATTPLUS
NATIF
NATURPLUS2
XPLUS2
Customers who bought this product also bought: