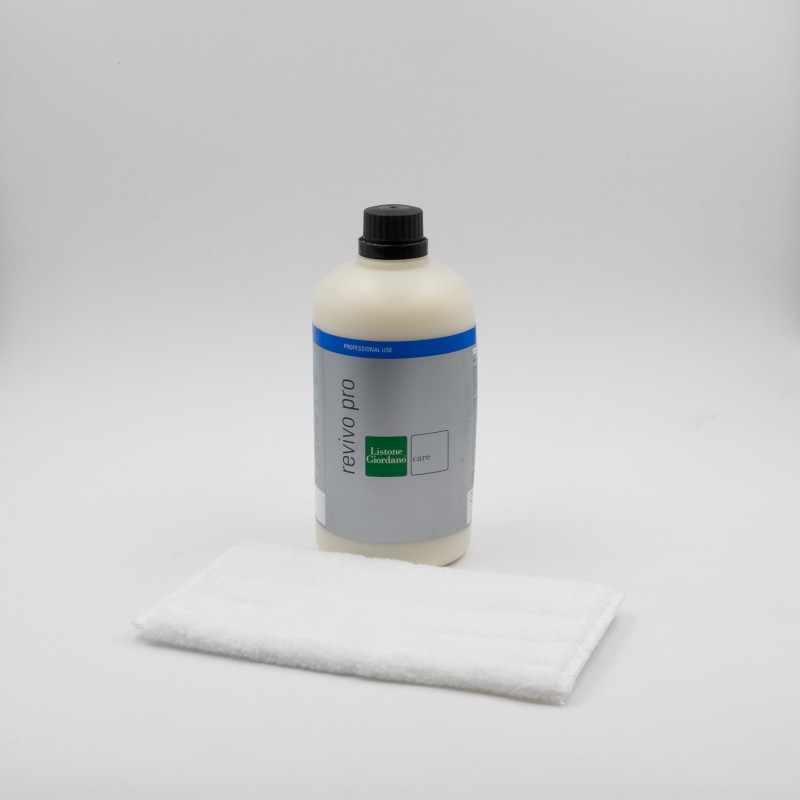  
Revivo pro
Product for periodical care of Listone Giordano Oleonature hardwood flooring.It restores the homogeneity of the surface and nourishes the wood in case of dry or poor appearance.
Professional use only. 1 package of 1 lt and a microfiber cloth included in the package.
Revivo Pro is a waxy-resin micro-emulsion from modified oils that ensures fast and easy application on oiled hardwood floorings. Provides higher protection to surfaces, as well as homogeneous and pearly finish.
Directions for use
Before applying Revivo Pro it is always advisable thoroughly clean the hardwood flooring with Green Listone Giordano in double dose.
Wait that the floor will be well dry.
Always use Revivo Pro at temperatures above +15°C.
Shake well.
Spread homogeneously a thin layer of Revivo Pro pure a small amount at a time, as if to clean, using a soft lint free cotton cloth that will not leave fibre residues underneath a long-handled floor brush or by hand.
Apply a second coat of the product in the same way after 1-2 hours.
Wait at least 5-6 hours before walk upon the floor.
Wash the cloths used for the application simply with water.
The application of Revivo Pro helps to homogenize the floor; no other application is therefore required.
The application of this product is required one single time provided that Revivo Listone Giordano is to be used on a regular basis in the following applications.
1 litre of product is sufficient for spreading a coat on a surface area of approximately 25-35 m².
Keep the product closed in its original package, in a cool place, away from freeze and UV rays.
For ordinary cleaning, do not use alcohols, acid, solvent, or ammonia base detergents.
Warnings
While this product is not classified as dangerous or flammable, keep out of the reach of children .The informations contained on this sheet are based on the company's research and experience. However it is intended for general purposes only since it is impossible to predict every environmental and installation variable.
Data sheet
Destinazione d'uso

Professional use

Finiture

OLEONATURE
Customers who bought this product also bought: