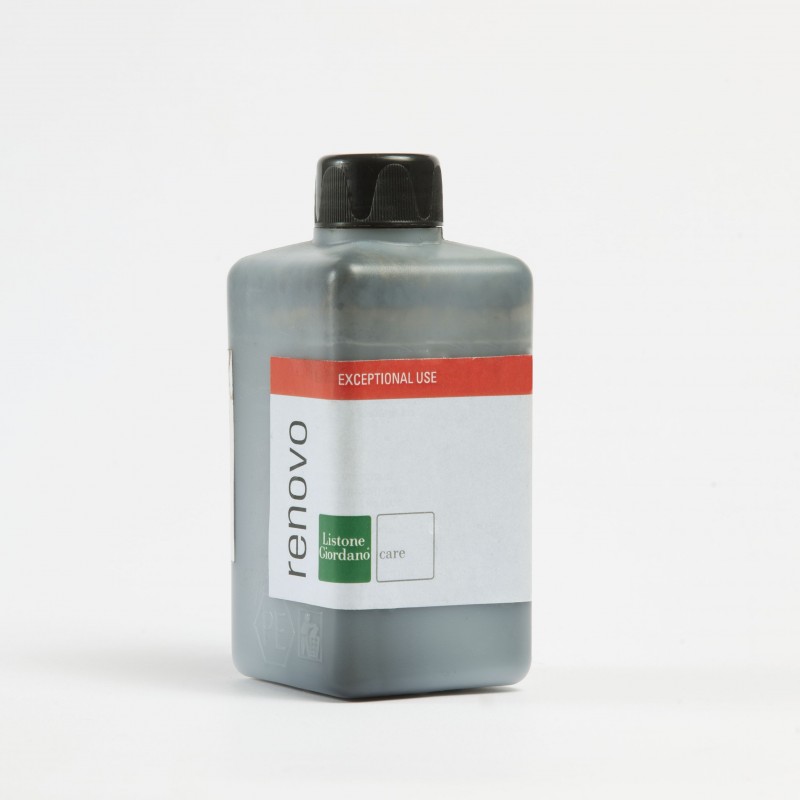  
Renovo
Special product for treating minor damages on the surface of hardwood floors Listone Giordano® in Oleonature finish. Available in various colors of the Listone Giordano collection finishes. Before adding the item to the shopping cart enter the desired color in the field at the bottom of this page
Product customization
Don't forget to save your customization to be able to add to cart
Special product for treating minor damages on the surface of hardwood floors Listone Giordano® in Oleonature finish.
Renovo Oleonature is a waxy-resin micro-emulsion from modified oils, available in various colors of the Listone Giordano collection finishes.
Restores the uniform appearance of the floor's surface on the scratches that have removed the colour of the finish. Also restores the appearance of surface stains and marks.
Before using, check that both the product and the hardwood floor have the same color: for this please refer to the pdf file below.
Attention! For the application of Renovo on Basic Mémoires Bretagne and Provence parquet, please refer to the paragraph dedicated on the following page.
Direction for use
Choose the Renovo Oleonature of the same color of the hardwood floor.
Shake well.
Apply with a small paintbrush with soft bristles the product pure on the scratches or on the area which requires retouching, making parallel movements to the strip
Dry the paintbrush with a cloth and use it again to soften and uniform the color.
Wait 1 hour for the product to dry up.
Polish with a red pad working in a direction that is parallel to the length of the floorboards and only on the touched-up areas.
Wait 1 hour for the product before walking on the floor.
At least 3 hours after Renovo Réserve has been applied, if required, apply Revivo Listone Giordano® all over the floor in order to restore the shine on the treated area.
For instructions on how to apply this product refer to the PM 30 – Revivo information sheet..
If required, wait at least 24 hours before cleaning with Green Listone Giordano®
Basic Mémoires Bretagne and Provence
Before use shake very well the bottle of Renovo Oleonature with the corresponding color of the hardwood floor.
Apply the pure product with a flat brush with soft bristles.
In case of a scratch proceed along the scratch trying to penetrate the product inside.
In the case of a halo always make a movement parallel to the grain of the wood.
Immediately blend the Renovo with a cloth, avoiding the creation of product concentrations both in the treated area and in the surrounding areas.
Allow the product to dry for about 1 hour..
Then, if you want to improve the homogeneity of the appearance of the entire floor, you can run an application of Revivo Listone Giordano on the entire surface
After allowing the product to dry for about 30 minutes, homogenize with a red pad manually passed along the vein and limited to the area to be restored.
The treated area is walkable after about 1 hour..
Wait at least 24 hours before washing the floor with Green Listone Giordano.
Data sheet
Destinazione d'uso

Restoration

Finiture

OLEONATURE
Customers who bought this product also bought: